100 Best Bear Artist Blogs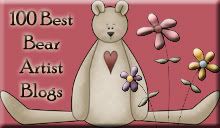 Welcome to 100 Best Bear Artist Blogs!
Please enter to visit our bear artist blogs. Enjoy!
If you would like to enter 100 Best Bear Artist Blogs without voting for the site that sent you Click Here
This page is the entry page to 100 Best Bear Artist Blogs. It exists to prevent members from artificially inflating their rankings. To visit the site you must click one of the enter buttons at the top of the page.
Below you can find a preview of the current top 5 sites on
100 Best Bear Artist Blogs
Rank
Site
In
Out
1
Duffyantiques

45
58
A place to view my small bears, with some daily happenings.
2
Granny Doodle Blog

42
48
Granny Doodle Blog, bears, family, friends, and more.
3
news teddy bears

13
14
All the bearses and rabbit are OOAK,perfect in the details and realized with love.
4
Draffin Bears

13
5
Draffin Bears are hand made Teddy bears produced on
Waiheke Island, New Zealand by Bear Artist Carolyn Green.

5
Dances With Teddy Bears

11
15
At that magical moment when night touches day, we dance.
A teddy bear artist's journal of life with all its wonders.